The Tower´s History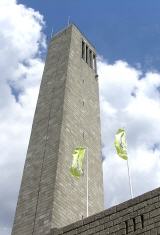 During late spring, early autumn, and the summer months, Berliners and tourists relish the panoramic view from the platform located on top of the Bell Tower. The panorama extends over the Olympic complex itself, to downtown Berlin, Spandau, and parts of Brandenburg County, including the Havel River Valley, Potsdam, Nauen, and Hennigsdorf. On a clear day, the hills of the Müggelberge are visible in the east, and visitors are able to enjoy an impressive view of the Funkturm (Radio Tower). To the south, the view of the wide expanse of the marvelous Grunewald Forest impresses locals and tourists alike. Most folks are intrigued by the architectural diversity and the magnificent natural scenery, which is one of the attractive features of Berlin and its surroundings. Many visitors consider the "Glockenturm" (Bell Tower) as their favorite vantage point from which to view Berlin and its surroundings.
The German capital has evolved into an international and exciting city featuring a unique blend of culture and art, interspersed with woods, lakes, and forests, located in the heart of the Brandenburg countryside. The Bell Tower is part of the overall complex of the "Reichssportfeld", which covers an area of more than 300 acres. Designed by the architect Werner March, with help from his brother Walter March, for the 11th Olympic Games of 1936, the stadium is the focal point of the grounds, and blends superbly with the natural landscape. The "new" construction replaced the German Stadium, originally located in the center of the Grunewald equestrian race track, inaugurated in 1913, and designated to host the unfortunately cancelled Olympic Games of 1916. [ Review ]

The design of the stadium is based on an intensive study of similar large sports arenas, located primarily in the United States. Plans to enlarge the German Stadium had already been completed by 1933, but a more spectacular, new design was ordered after the Nazis came to power.